Web Folders Setup for Windows 10
Right-Click Windows Start and select File Explorer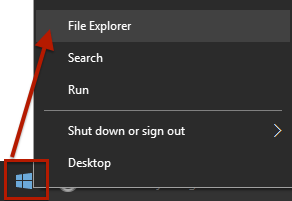 In File Explorer Right-Click "This PC" and select "Add a network location"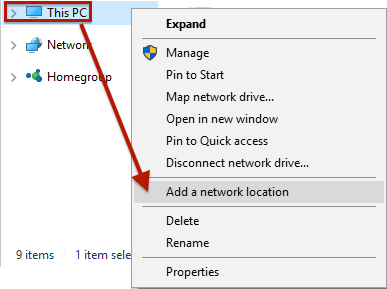 When the Add Network Location Wizard starts, click "Next"
Select "Choose a Custom Network Location" and Click "Next"
For "Internet or network address" enter https://webfolders.mydocsonline.com and click "Next"
When the "Connect to webfolders.mydocsonline.com dialog appears use your My Docs Online Member Login and password and click OK.
After successful login you will be asked "What do you want to name this location?" the default of "webfolders.mydocsonline.com" is the easiest. Click "Next"
The wizard should confirm the network place has been created. Click "Finish" to open the network location (if box is checked).
When you open the network location you will see your main My Docs Online folder(s). Right-Click a folder and "send to desktop" to create a shortcut (or use other options like "Pin to Quick Access" or "Pin to Start"). You can also open a folder and use this method on one or more My Docs Online subfolders.
Watch a video: