Java Applications Cannot Launch Due to Kaspersky Internet Security
Java applications, particularly Web Start applications such as the Desktop App, cannot launch on Windows systems using Kaspersky Internet Security. If the Desktop App cannot launch you can confirm Kasperksy is the problem by temporarily turning Kasperkey off (Settings, uncheck "enable protection").
Once you have confirmed Kaspersky is the problem, turn protection back on (Settings, check "enable protection") and follow these instructions to configure Kaspersky to allow Java to work properly:
Launch Kaspersky Internet Security and select "Applications Activity"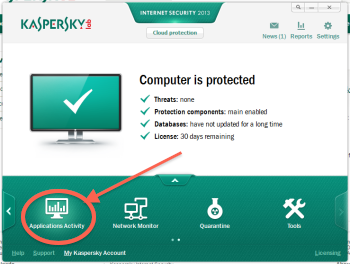 Change Display to "All" ,"Trusted" (green dot), and "View: Group by vendor"

Set "Applications Rules" for each Java component
Scroll to the Oracle section to see the Java components. The number of components will vary depending on your installation. You will see components such as "Web Start Launcher" and "Platform SE Binary".
For EACH Java component Right-Click and choose "Application Rules"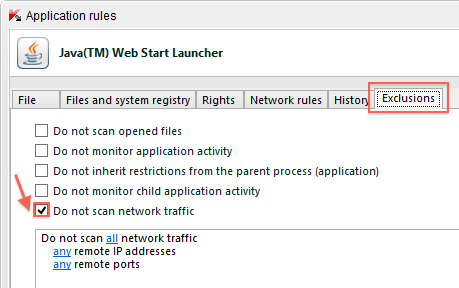 Select the "Exclusions" tab and check "Do not scan network traffic" and click OK.