Group Administration controls for Secure File Sharing and Delivery
The Group Administrator has several optional settings to tailor the Share option to meet the needs of the Group account (Group Administration ? Group Settings ? Share)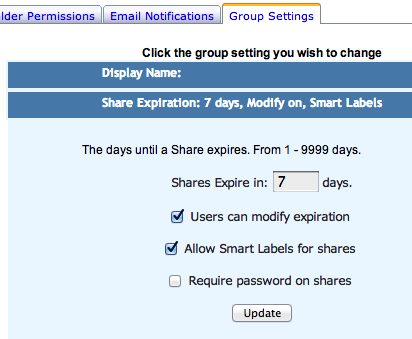 The Group Administrator can:
Set the default expiration (in days)
Allow users to override the default expiration
Allow the use of "Smart Labels"
Require that ALL Shares include a password
NOTES:
These restrictions only apply to users in the group. The Group Administrator ID is not subject to restrictions. Solo (one user) accounts have no restrictions.
The default maximum number of downloads for a Share is 50. After that the recipient(s) will see the message 'Maximum File Download Reached'.
If the number of days to Share Expiration is changed the maximum download limit is changed to 999.
If these limits are too low (or too high) contact My Docs Online Support for custom modification.