Put a Password on your Share Delivery
For added security, you have the option of adding a password to your Share. Recipients will need to enter the password before they can access and download the Shared files.
IMPORTANT: you need to communicate the password to your recipient separately. Do NOT include it in the Comment associated with the Share. Also do NOT use your My Docs Online account password.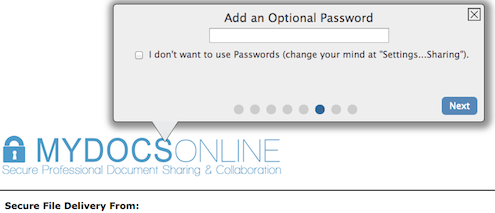 A password can also be included as part of a Smart Label. Like other Smart Label optional fields (comment and expiration) it will "autofill" the password field when you select the label (if that label includes a password). You then have the option of editing the password before completing the Share.
You can add a password to a particular Share after the fact, or change the password, on the "Details" page for the Share (Share Management ? Details).
Although typically an option, the Group Administrator can require that all Shares use a password (Group Administration ? Group Settings ? Share ? "Require password on Shares").