Internet Explorer Cannot Display Some Pages in Classic Web Interface
When using Internet Explorer (IE10 or later) and the old, "classic" My Docs Online web interface, some pages such as "Group Administration" will not display but will return a server error, usually "The website cannot display the page".
The recommended fix is to switch to the updated web client (introduced in 2011). Contact Support to have your ID switched. See this article on the differences in look & feel and features.
To work around the problem without switching either use a different browser (Chrome or FireFox) or switch IE to "Compatibility View".
To set Compatibility View for IE 11 select Settings (the "gear" icon), then select "Compatibility View Settings". In "Add this web site" type mydocsonline.com and click "Add":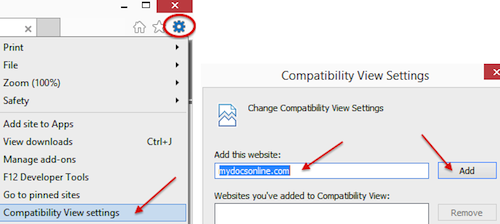 To set Compatibility View for IE 10 select Settings (the "gear" icon) and then F12 Developer Tools: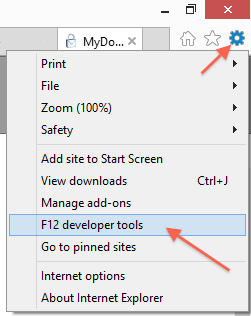 Then set Compatibility View: